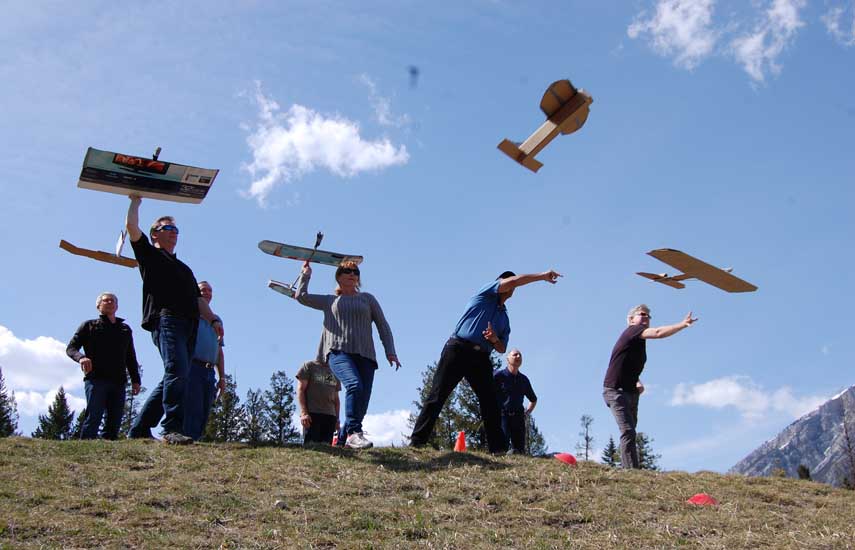 Learn effective leadership skills, communication and new methods of delivering on customer expectations.
Currently #2 most requested business simulation workshop in Shawnee.
It will be clear which teams elevate their performance to meet the Eagle Glider Construction Challenge requirements. Success will be a byproduct of great communication, effective leadership, innovative approaches, creative marketing and, of course, a team's ability to FLY!
Request More Information
In this fun business simulation workshop we will:
Challenge groups to adapt
Simulate business as it translates to real life
Emphasize great leadership
Engage every person on your team
Deliver team building people will enjoy
Celebrate diversity and all skill levels
Positively impact your bottom line
The Eagle Glider Construction Challenge is an extremely entertaining and dynamic event for groups of all sizes. People are swept away with enthusiasm as the program progresses. Each person will have a chance to shine while they complete a ongoing selection of challenges as their team's glider is built.
Groups need not be industrial design engineers or rocket scientists to do well with this challenge – just willing to play a little bit and take action decisively. The key themes this event focuses on are communication, collaborative presentation skills, teamwork, problem-solving, and strategy.
How the program works
During the course of the event, teams will have to deal with several curve balls that are not uncommon in the real world, such as, project modifications, staff changes, etc. At the end of the building process, teams will put together a group presentation that will highlight their accomplishments and "sell" their glider to the client.
Following the testing phase, there will be a facilitated debriefing session where the events will be dissected according to the concepts that were learned. This review will be invaluable to knowledge retention following the event. Participants will also have the chance to share what they observed and learned.
Finally, there will be an awards presentation where each team will be recognized for any outstanding elements of their project, and the coveted Eagle Glider Contract will also be given to the winning team.
Request More Information
Your investment includes:
Full-service all-inclusive training program
Complete pre-program communication including liaising with venue (we can help you source many hotels, resorts and venues in Shawnee)
Day of program organization and coordination
On-site professional Facilitator and friendly Event Hosts (necessity of hosts dependant on activity choice, location and group size)
All materials, equipment and props for program activities
Post-event review and summary of lessons and concepts
Delivery, set up, management and break down of program
The price we quote you is the price you pay. We include any related travel and miscellaneous costs in our quote so you can feel confident your budget will be met for the program.
Key Facts
Activity Level : Active
Competition Level : Competitive
Desired Outcome : Fun
Event Length : 2 – 3 hours
Investment Level : Hosted ($35 – $260pp)
How much does this event cost?
Pricing for our full service team building events like this one depends on factors such as your group size and preferred event location. For the majority of groups we work with, pricing ranges from $55 to $260 per person. For smaller groups we do have a minimum total investment level of $5,200+. For premium hosted events (Charity Bike Buildathon, Bookworm Builders, School Supply Scramble, Military Support Mission) we have a minimum total investment level of $6,100+. For larger groups we'll be as flexible as possible to work within your budget. Pricing does not include any venue or location rental fees.
Contact us for a fast and personalized proposal that addresses your program specifics, group dynamics, objectives and budget.
Reviews for Eagle Glider Construction Challenge
" Interactive program that achieved my objectives (team building, trust, communication, etc. in a business simulation). The coach was engaged, energetic, experienced and was looking out for the customer. "

– Shell
Get the team building activity help you need today!
Contact our team at 1-877-713-7238 to discuss what you're looking for and experience for yourself why people who plan team building activities for the most successful companies in Shawnee rely on our talented team. Whether you have a large group of 1000 plus, or something much smaller, we can help. And if you require it, all our activities are available in a bilingual format!
Need a detailed proposal right away? That's our specialty.
Part of an independent meeting planning firm? See why a meeting planner partnership with us and our vast array of group activity solutions makes great business sense.
Download Our Guide to Innovative Corporate Team Building Events
Looking for a unique corporate teambuilding event in Shawnee or group activity your clients will get excited about? Have a look at the team building ideas we provide to successful and emerging companies from around the world. They are all designed to improve morale, increase camaraderie and enhance productivity.
Recent Client Feedback
We thrive on helping our partners achieve their goals through our unique and innovative suite of corporate team building events and group activities. Feedback like this is what we strive for every time!